Dr. David Gillette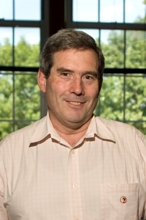 Dr. David Gillette
Professor of Economics
Education
B.S., Economics-Idaho State University
Ph.D., Economics-Washington State University

Organizations
I have served on Truman's Faculty Senate and Undergraduate Council and I have chaired the Interview Project and Truman's Assessment Committee. I currently chair Truman's General Honors Committee and advise Panhellenic Council, Alpha Kappa Psi, and Up 'till Dawn.
Honors or recognition:
I received the E.M. Violette Outstanding Advisor award, Order of Omega's Golden Apple Excellence in Teaching award, and I've been a semi-finalist in Truman's Educator of the Year process.

Research interests:
Macroeconomic and Monetary Policy, Economics of Gender, and Instructional Design

What attracted you to teaching at Truman?
I was initially attracted to Truman by its focus on the undergraduate educational experience. I wanted to teach undergraduate economics and Truman was a school that valued my aspirations. Once I visited campus, however, I was impressed by the caliber of students I encountered. I was sold immediately.

What do you think makes Truman unique?
Truman is unique because of its students, its faculty, and its focus on delivering a premier undergraduate education. I love that our classes are small and that I get to know each student by name and as more than just a number.

What do you like best about teaching at Truman?
The best part about teaching at Truman is its students, by far! I'm continually impressed by what our students accomplish not only in, but also outside of, the classroom. They were great when I first visited Truman and have continued to impress me as I've come to know them better. Teaching is what I love to do but working with students outside of class is equally rewarding and teaching at Truman allows me to be involved in several co-curricular activities that currently include Panhellenic Council, Up 'till Dawn, Alpha Kappa Psi others.

How have you involved undergraduate students in your research?
I have been able to work with students in all phases of research I've conducted, from data collection to national presentations.

What graduate schools are some of your former students attending?
University of Maryland, Miami of Ohio, University of Missouri Columbia, University of Wisconsin, Western Illinois University, Cornell, New York University, St. Louis University, Washington University, University of Missouri Kansas City, John Hopkins, Duke, University of Chicago, University of Iowa, among others.

What careers have some of your former students entered?
City planning, hospital administration, academics, data management, broadcast journalism, account management, hotel and restaurant management, government, Federal Reserve, assisted living, student affairs, etc.