Melissa Dannenberger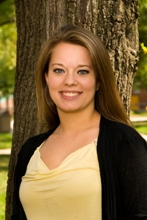 Melissa Dannenberger
Business Administration, Management and Marketing concentrations
Education
Gateway Institute of Technology St. Louis, MO
Organizations
The International Fraternity of Delta Sigma Pi, Professional Co-ed Business Fraternity
What attracted you to Truman? I was attracted to the small class size and ability to work with professors on a one to one basis. Truman's campus is gorgeous no matter what season and small. By having a small campus students are able to walk across campus between classes with easy.
What do you like best about Truman? Truman offers a broad range of organizations that students can get involved with.
What has surprised you about Truman? When I first arrived at Truman I was not expecting to meet so many great people. Truman's Freshman Week allowed for me to open up and meet new people. From this experience I have made lasting relationships that hopefully will to continue after graduation.
What do you like most about your classes? I love having small classes with great interactions with both professors and other students.
How would you describe life at Truman to a friend? Truman is a great college to attend if you are looking for a small campus with great friends, professors and endless opportunities.
What are your plans after graduation? I plan on finding a job in Marketing or Management after college. A few years after college, I would love to become a Real Estate Agent in the St. Louis area.
What do you do for fun in Kirksville? Kirksville offers a range of activities for students. My friends and I love going out to dinner, the movies, bowling, and Thousand Hills State Park. The SAB also does a great job of offering activities on the Quad and across campus.