Nancy Zeng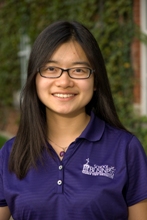 Nancy Zeng
Accounting, Statistical Methods minor
Education
Doudi, Hunan, China No. 1 High School in Doudi
Organizations
Delta Sigma Pi Beta Gamma Sigma SSAS
What attracted you to Truman? I was attracted by the small size, low expense, and high reputation in academics.
What do you like best about Truman? I like that it is a small size school and has small classes.
What do you like most about your classes? The class interaction is the best.
What do you feel is unique about Truman? There is a harmonious relationship among professors and students.
How would you describe life at Truman to a friend? Truman has a seriously academic atmosphere and very diverse cultural experience.
What are your plans after graduation? I plan to attend graduate school in accounting.