Ben Hainline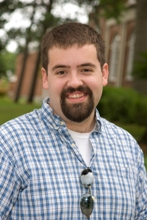 Ben Hainline
Nursing
Education
Homeschool
Marthasville, MO
Organizations
Campus Christian Fellowship small group leader and ministry head
Sigma Theta Tau International Rho Omega chapter, a selective international nursing honor society.
What do you like best about Truman?
What I like best about Truman is its nursing faculty. The faculty at Truman go above and beyond the call of duty for their students and it shows in the classroom and clinical settings.

What has surprised you about Truman?
What surprised me about Truman were the activities that are put on each semester by students and special guests. Whether its plays, concerts or Lyceum events, there is a lot of talent at Truman.

What do you like most about your classes?
I like the hands-on experience that nursing clinical provides. Especially in junior year, I really started thinking of myself as a "real" nurse. I am the nurse. It feels good to know that my classes are really preparing me for my future.

What do you feel is unique about Truman?
I think the community we have here is unique to Truman. The faculty are friendly. Classes are small and you develop a real camaraderie with your classmates.

How would you describe life at Truman to a friend?
Life at Truman is rigorous when it comes to academics and varied when it comes to extracurricular activities. There is always something happening on campus and it feels good to be a part of something you are proud of.

What are your plans after graduation?
I plan on moving back to St. Louis area and working in Pediatrics.

What do you do for fun in Kirksville?
Truman is the center of fun in Kirksville. I like to go to TSODA's production every semester, any event that Lyceum puts on, movies and hiking out at Thousand Hills State Park; however, I get the most satisfaction just hanging out with the friends I have made here.