Dr. Stephanie Powelson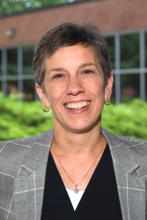 Dr. Stephanie Powelson
Professor of Nursing, Chair-Department of Nursing
Education
BSN-University of Tennessee, Memphis
MPH-University of North Carolina, Chapel Hill
EdD-Spalding University, Louisville, KY

What attracted you to teaching at Truman?
Most of our classes are just the right size -- I can work with students, faculty, and staff in meaningful ways. People at Truman are friendly. I can make a difference here at Truman.

What do you think makes Truman unique?
I appreciate the students' work ethic and desire to be involved in their education and campus activities. We have a beautiful residential campus where students can connect and exchange their thoughts, ideas, and life experiences.

What do you like best about teaching at Truman?
The students. I enjoy my students and I am honored when our graduates return to visit us or send us updates on their lives. The faculty and staff are committed to providing a positive experience for our students across the campus.

What has been your greatest accomplishment or success while teaching at Truman?
I enjoy helping students accomplish their goals. I often teach a freshman class and a senior class. To see the students develop from a freshman to a senior is very rewarding. The students are so excited to graduate, find their first nursing position, and pass their nursing boards. Witnessing and participating in students' lives gives me a deep sense of accomplishment.

What do you consider to be your greatest professional accomplishment?
Sharing my nursing experiences with nursing students. I worked in several different settings, including health departments, hospitals, and home health. Sharing relevant examples of nursing practice with students in class helps to prepare students for their future patient encounters.

How have you involved undergraduate students in your research?
A few students pursued assessment of HIV prevention strategies. One student was involved in the evaluation of interprofessional teamwork, and she contributed to a published journal article. Another student assessed health promotion strategies and shared her findings at a professional nursing conference in Chicago, IL. All of the senior nursing students review and analyze research findings and share a poster or podium presentation at a research conference on campus.

What do students seem to like most about your classes?
Applying what they learn in the classroom to real world situations. Each spring, the nursing students plan and implement a health fair on campus. They apply for funding and select a speaker. A variety of screenings are offered, including HIV testing. Most nursing students learn best from transferring their knowledge to providing care for others.

What careers have some of your former students entered?
Many of my former students are working in hospital settings, including intensive care units, maternal/child health, nurse practitioners, or public health nursing. Several students each year will continue their studies in areas of nursing education or research. Since my special interests include public health nursing and nursing education, it is especially rewarding to follow students with similar career interests.