Dr. Barbara Kramer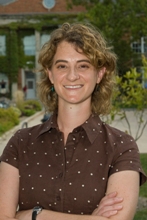 Dr. Barbara Kramer
Associate Professor of Chemistry
Education
BA, Biochemistry-Oberlin College
Ph.D., Chemistry-Emory University

Research interests:
My research focuses on using analytical chemistry to understand the environment. One of the projects in our lab involves determining the amount of pesticides in local lake water and fish. Another area of interest in our lab is phytoremediation-using plants to remove heavy metal contaminants from soil.

What attracted you to teaching at Truman?
The students. When I visited, I was struck by how involved the students were and how comfortable they were with the faculty. The interactions between the faculty and students at Truman are much more like they were in my graduate program and unlike any other undergraduate department I've seen.

What do you think makes Truman unique?
The interaction between faculty and students at Truman is unique. Even in schools with smaller departments, the faculty and students are not as comfortable with each other. The faculty truly get to know the students throughout their time here.

What has been your greatest accomplishment or success while teaching at Truman?
Helping the American Chemical Society student chapter at Truman host the regional American Chemical Society meeting and win top honors with the national organization every year.

How have you involved undergraduate students in your research?
Without undergraduates, I would have no research! Students have worked in my lab on projects they helped design. They've worked with me to write papers for publication and to present posters and talks at national and international conferences.

What graduate schools are some of your former students attending?
University of Minnesota, University of Illinois, University of Arizona, Oregon State University, University of Wisconsin, Louisiana State University, Buffalo State University among many others

What careers have some of your former students entered?
Analytical chemist, Forensic Science, Environmental chemist, Environmental Law, High school chemistry teacher, etc.