Prof. Priya Kambli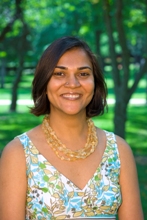 Prof. Priya Kambli
Associate Professor of Art
Education
BFA, Graphic Design-University of Louisiana
MFA, Photography/Digital Photography-University of Houston
Research interests:
Fine Arts: Photography/ Digital Photography

What attracted you to teaching at Truman?
The Liberal Arts education, the students and emphasis on undergraduate education.

What do you like best about teaching at Truman?
The conversations and discussions with my students.

What has been your greatest accomplishment or success while teaching at Truman?
Mentoring students participating in the Undergraduate Research.

What do you consider to be your greatest professional accomplishment?
I want to highlight one moment in my career; receiving the Book Award, through PhotoLucida's (Portland, Oregon) 2008 juried competition: Critical Mass. The aim of Critical Mass is to provide artists working in the media of photography and digital imaging "career-building opportunities and to promote the best emerging and mid-career artists working today." In this competition 606 photographers submitted 10 images, these images were pre-screened by a committee of approximately 20-25 jurors (gallery owners, museum curators, book publishers, writers), who choose 175 finalists. Many of the finalists are well-recognized contemporary artists or photojournalist working for well-known agencies such as Magnum photography. The work of these finalists went on to a jury of approximately 200 of the world's best curators, editors, and professionals agreed to view and vote on these finalists. From the votes, just three photographers received book awards, Andy Freeberg, Celine Clanet and myself. The book, which is currently in the process of being designed, will be available by 2010.

How have you involved undergraduate students in your research?
I do not directly involve my students in my creative process. Although the act of making art by solving visual problems feeds directly into my teaching and mentoring activities by modeling the artist's life, increasing knowledge in many of the areas I teach, and providing me with greater and more recent experience with the joys and frustrations of undertaking the exploration of new knowledge.