Dr. Wolfgang Hoeschele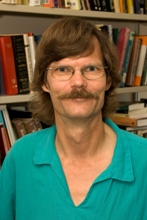 Dr. Wolfgang Hoeschele
Associate Professor of Geography
Education
BA, Biology and Art-College of Wooster (Ohio)
MS, Environmental Science-Washington State University
Ph.D., Geography-Pennsylvania State University
Additional experiences or positions held:
My background is rather multicultural because I am a German who grew up in Thailand, Korea and Greece; these experiences have helped shape my thoughts. After I earned my master's degree, I gained experience in voluntary work in environmental activism, as well as freelance translation work, in Germany during 1990-93.

Research interests:
How to make our economy more supportive of freedom, environmentally sustainable and socially equitable, both in theory and in practice. The particular contexts I have studied include the highlands of the southern Indian state of Kerala for my doctoral dissertation, and a network of small towns in Italy, Germany and England in my present research work.

What do you like best about teaching at Truman?
The great majority of students are willing to put in the effort to meet the challenges of a rigorous education. As a result, in the upper-level courses in particular, class discussions are often lively and interesting, provoking me to think through the issues more deeply myself.

How have you involved undergraduate students in your research?
Students have helped transcribe interview tapes from my research in England and Italy, and in compiling information drawn from the internet. In my economic geography class, students have also done original research of their own in developing proposals how to "make Kirksville a better place."


What do students seem to like most about your classes?
The exploration of intellectual ideas, not accepting received wisdoms and continuing to ask questions. One student recently told me that he enjoyed my class for "thinking outside the box," and in fact I find the insides of boxes stifling!

What do you like best about living in Kirksville?
I enjoy cycle rides in the surrounding countryside. I typically cycle about 4000 miles a year, and there are some good routes out there!