Dr. Tim Walston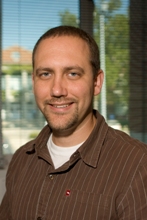 Dr. Tim Walston
Assistant Professor of Biology
Education
B.A., Biology-Taylor University
M.S., Cellular and Molecular Biology-University of Wisconsin-La Crosse
Ph.D., Genetics-University of Wisconsin-Madison



Research interests:
I am interested in what causes cells in the embryo to establish particular shapes and how cells in the embryo migrate. I am currently exploring the role of folic acid in cell migration in the embryo, which will give us a better understanding of how spina bifida and other neural tube defects occurs in human embryos. I am also exploring how various species of worms undergo embryogenesis. I am collaborating with Dr. Scott Thatcher in Mathematics in a Research Learning Community in Mathematical Biology project to create a computer-based 4D model of the 4-cell stage of embryogenesis. Another project in my lab is a collaboration with scientists at AT Still University to use worms to test virulence of pathogenic bacteria.

What do you think makes Truman unique?
The students at Truman make it an exceptional place through their talents and skills combined with their dedication and hard work.

What do you like best about teaching at Truman?
I love teaching students who really want to learn. I am also excited about the opportunities to pursue research and get Truman undergraduates involved in research.

What has been your greatest accomplishment or success while teaching at Truman?
One of my greatest successes has been seeing Truman students present their research conducted in my research lab at national and international scientific conferences.

How have you involved undergraduate students in your research?
Undergraduates play a key role in my research lab. Every semester between five to ten undergraduates are involved in scientific experiments to explore developmental biology and cell shape and migration. During the summers, I have mentored students from the STEP and MathBio programs in independent research projects. Students get the opportunity to work with worm embryos and learn many advanced microscopic techniques.

What do students seem to like most about your classes?
I use a lot of movies and animations to demonstrate biology in process. I often use case studies to illustrate the topics we are discussing and provide a real life example. I also encourage my students to consider the bioethical issues that are foundational to the study of genetics and developmental biology.

What careers have some of your former students entered?
My former students are attending graduate school in genetics or molecular biology fields, medical school, pharmacy school, and teaching for the Teach for America program.

What do you like best about living in Kirksville?
Kirksville is a great place to live! It has many of the benefits of a college town, while being set in a rural area. The weekly Farmers' Market is a great place to get fresh vegetables. The disc golf course at Rotary Park is a great way to enjoy the outdoors. There are lots of other family-friendly events going on around town. It is a great place to live and raise a family.