Tara Larson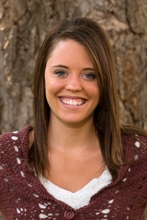 Tara Larson
Visual Communications
Education
Ankeny High School
Ankeny, IA
Organizations
Cheerleading
Sigma Sigma Sigma- Historian
NSCS
AIGA
What do you like best about Truman?
The personalized education and attention the students get from their professors. All of my professors know my name, but they also know my strengths and weaknesses.

What has surprised you about Truman?
Even though the campus is smaller there are a lot of opportunities available for students. For example, last spring I got to go to Dallas Texas with a few of my classmates and one of my professors. We went to the Fifth Annual National Student Show and Conference in Dallas Texas. I got to meet with big name designers who worked for companies like Hallmark, and Fossil. I also got to have a one on one portfolio review with professional and very influential designers. The experience was truly a once and a lifetime opportunity.

What do you like most about your classes?
I like the sizes of the classes. They are not too small that you know everyone - but you can usually find one or two familiar faces.

What do you feel is unique about Truman?
All the professors are always available and more than happy to help with questions or concerns even if you can't meet them during their office hours.

How would you describe life at Truman to a friend?
Life at Truman is busy, hectic, and sometimes stressful, but professors really strive to get students ready and motivated for the real world.

What are your plans after graduation?
After graduation I want to move to a bigger city or suburb and get a job at a design agency.

What do you do for fun in Kirksville?
I'm a cheerleader, so I enjoy cheering for football and basketball games. I like going to movies with my friends and going out for ice cream on waffle cone Wednesday. It is also fun to wander the square and search for antiques and treasures in the old Kirksville shops.