Dr. Stephen Hadwiger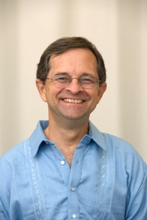 Dr. Stephen Hadwiger
Associate Professor of Nursing
Education
BSN-Northwestern Oklahoma State University
MS(N)-University of Oklahoma
PhD-University of Missouri

Honors or recognition:
Outstanding Research Mentor 2009, TruTech Challenge 2008, Diversity Institute Fellow 2005 for Medical Interpreter Training coordinator, Diversity Institute Fellow 2004 for mentor for Hablantes Unidos-student organization, Diversity Institute Fellow 2003 for mentor for Estudiantes de Enfermera, a Spanish speaking nursing student organization, Sigma Theta Tau International Small Grant 2000 for dissertation, Managing Diabetes according to Mexican American Immigrants.

Research interests:
Ethnography, Cross Cultural Research-working with vulnerable populations.

What do you think makes Truman unique?
The University offers a liberal education-that means that our graduates learn to think outside of preconceptions or frames of reference. Liberal is not a reference to a political orientation but to an openness of mind that allows our graduates to consider multiple perspectives regarding a problem or issue.

What do you like best about teaching at Truman?
The students are the greatest asset of Truman State University. When I am able to assume intellectual preparedness among my students, I am able to engage them at a higher level of critical thinking than content driven lecture.

What do students seem to like most about your classes?
What I have learned students enjoy most in my classes are activities or presentations that engage students in participatory interactions. Lecture bores students, but activities that provoke interaction tend to draw students into the session. Case studies, clinical problems, interactive Powerpoints and small group activities are some of the engagements students seem to prefer.

How have you involved undergraduate students in your research?
I have advised and consulted student researchers on qualitative data analysis. I had one student who was a minority research fellow for the National Institutes of Health during all 4 years of her undergraduate education. She became as proficient at qualitative data analysis as I was. I have also involved my student workers in data analysis for tracking both quantitative and qualitative assessment data from alumni and employer surveys.

What careers have some of your former students entered?
Most of our graduates work in specialty nursing units like maternity, operating department, emergency department, or critical care. Many return to graduate school to obtain a masters degree in advanced practice nursing (e.g., family nurse practitioner, pediatric nurse practitioner, midwifery, or nurse anesthetist).