Shawn Shinneman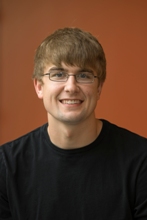 Shawn Shinneman
Communication- Journalism, International Studies minor
Education
St. Joseph Central
St. Joseph, MO
Organizations
Beta Theta Pi
Truman Index
What attracted you to Truman?
The size of the school seemed to be a good fit for me and allowed me to get involved in student media from day one. Also, as far as getting a quality education for a good price, you can't beat Truman.

What do you like best about Truman?
The people, hands down. I think anyone can feel like they fit in here. Students are always super friendly and faculty very helpful. I once sent an e-mail to a teacher about some concerns I had about a project at 7 o clock on a weeknight. She responded with 3 large paragraphs by the end of the night. I think that says it all about how much these teachers really care about their students' success.

What has surprised you about Truman?
The amount of attention you get from each of your teachers. I knew the student to faculty ratio was good coming in, but didn't think I'd be getting such a personalized learning experience.

What do you like most about your classes?
Most are very discussion-based. I came into college thinking I'd be hammering away pages and pages of lecture notes from class to class, but that hasn't been the case. Teachers do a good job of encouraging conversation and engaging students. I think that makes it easier for everyone to learn.

What do you feel is unique about Truman?
The students are very unique and diverse. I think most people really care about their education and aren't just here to score a degree and head out to the real world.

How would you describe life at Truman to a friend?
It's definitely challenging, there is no way to get around that. But when you work hard and feel like you are working towards your goals, it gives you a sense of fulfillment. Oh, and the weekends are a blast.

Have you studied abroad, done an internship, or participated in undergraduate research?
I did an internship at KQ2, the local TV station in St. Joseph. I got to head out with reporters and shoot video and help put together stories. It was a lot of fun and great experience.

What do you do for fun in Kirksville?
Hang out with friends, I'm not too complicated. I enjoy kicking back with a close group of friends as much as anything. Maybe throwing in a movie or something. Of course, the occasional trip to the lake at Thousand Hills is always fun.