Sarah Foltz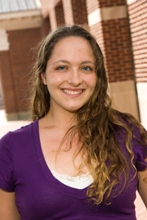 Sarah Foltz
Anthropology, Biology and English minors
Education
Lakeland R-III
Deepwater, MO
Organizations
Bullets Rugby
What attracted you to Truman?
The small class sizes, interesting people, opportunity for personal research with professor help, and the beautiful campus.

What do you like best about Truman?
There is always something to do and it is so easy to start a conversation with almost anyone

What has surprised you about Truman?
How much I have gotten to know my professors!

What do you like most about your classes?
I like the interdisciplinary approach to most subject areas, I feel that I get to learn how a subject relates to the bigger picture, instead of just memorizing bits. It makes my understanding of a topic more complete and interesting

What do you feel is unique about Truman?
The atmosphere, although a wide range of people attend Truman, almost all of them are friendly and open to talk about anything.

How would you describe life at Truman to a friend?
Laid back but hectic. Even though most of the people I know are able to just relax with friends they are also amazingly smart and BUSY.

Have you studied abroad, done an internship, or participated in undergraduate research?
I was able to work with the Museum of Anthropology at MU last summer (2009) and work in pretty much every aspect of the facility. I did everything from writing and choosing images for an online exhibit to teaching kid's classes to sorting through boxes of archaeological material.

What are your plans after graduation?
I plan to continue on to get a master's degree, probably in Biological Anthropology, and eventually hope to work in a museum full-time.