Robert Welter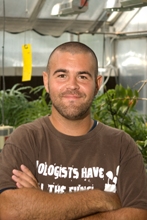 Robert Welter
Biology
Education
Cedar Falls High School
Cedar Falls, IA
Organizations
BBB Biological Honor Society
PLANTS Club
Wildlife Club
Honors or Recognition:
Outstanding Undergraduate Research Presentation Recognition at Microbiological Society of America Conference (2009)

What do you like best about Truman?
I appreciate the rigorous nature of our courses and every classmate's work ethic to achieve their best.

What has surprised you about Truman?
Being a smaller school, I have been surprised at the numerous resources we have available as students. From extensive periodical access for research to an extremely helpful Career Center, it is never difficult to find what you need around campus.

What do you like most about your classes?
The professors are most definitely my favorite aspect of coursework. Every professor is dedicated to your learning and is always available for questions or further discussion.

How would you describe life at Truman to a friend?
Life at Truman is what you make of it. There are over 200 clubs to be involved in, six thousand other undergraduates to make friends with, and countless other extracurricular events to take part in.

Have you studied abroad, done an internship, or participated in undergraduate research?
During the summer of 2008, I worked as a Plant Conservation Intern at the Chicago Botanic Gardens and this past summer I monitored endangered birds on Sandy Neck Beach in Cape Cod, MA.

What are your plans after graduation?
After graduating from Truman State, I plan to work as a mycologist (someone who studies fungi) either in ecological research in the micro-brewing industry

What do you do for fun in Kirksville?
In Kirksville, I enjoy listening to live music, especially local blues bands and the university jazz combos.