Dr. Jerry Mayhew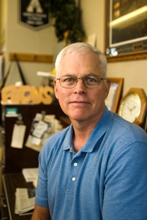 Dr. Jerry Mayhew
Professor of Exercise Science and Director, Human Performance Lab
Education
BS-Appalachian State University
MS-University of Illinois
PhD-University of Illinois

Research interests:
Muscle strength and power
Body Composition

What attracted you to teaching at Truman?
Starting a new lab (1975) and the opportunity to do research with students without the pressure to publish.

What do you think makes Truman unique?
The opportunity for students to be the lead investigators on projects in which they have a personal interest.

What do you like best about teaching at Truman?
The enthusiasm and eagerness of the students to learn.

What has been your greatest accomplishment or success while teaching at Truman?
Every student who has success is a great accomplishment for a teacher.

How have you involved undergraduate students in your research?
I have been a mentor to many students in countless undergraduate research projects and have often learned as much as the student about new things in exercise physiology.

What graduate schools are some of your former students attending?
University of Oklahoma, University of Southern California, Colorado State University, University of Kansas, University of Missouri, University of Illinois, Iowa State University, University of Alabama-Birmingham, South Dakota State University, Illinois State University, Boston College.

What careers have some of your former students entered?
Physical therapy, medicine, nursing, YMCA fitness director, strength & conditioning coach, nutrition research, muscle physiology research, fitness center director.