Huyen Dinh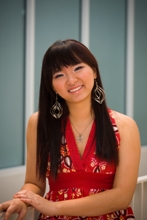 Huyen Dinh
Visual Communication, Business minor
Education
Greenville High School
Vietnam
Organizations
AIGA
LiFT
What attracted you to Truman?
I heard Truman has good reputation of academic with reasonable tuition.

What do you like best about Truman?
Campus is average sized, not too big or small so it is easy to get around and I don't get lost. The size of the campus also makes it easier to know more people.

What has surprised you about Truman?
Students from different countries create diversity in campus. People are really nice and friendly. Besides, Truman helped me realize the right major for me is graphic design.

What do you like most about your classes?
Classes are small size so it is easy for teachers to help students when they have difficulties and also teachers are really nice and willing to help students one on one.

What do you feel is unique about Truman?
Truman is located in a small town and is really peaceful. It is fun to watch squirrels running around the quad.

How would you describe life at Truman to a friend?
Boredom is not in my dictionary anymore. Besides homework, there are always a lot of activities going on to keep you busy and active. At Truman, I not only have a good academic foundation but also get involved in so many organizations.

What are your plans after graduation?
I want to have my own brand as a graphic designer.