Christopher Bader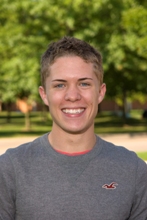 Christopher Bader
Music- Liberal Arts, English
Education
St. Pius X High School (Festus, MO)
Crystal City, MO
Organizations
University Orchestra
Truman Leadership Scholar Program
Honors or Recognition:
Truman Leadership Award, President's List

What do you like best about Truman?
I enjoy the relatively small student body-it makes the school much more accessible to students who come from small towns.

What has surprised you about Truman?
I have been most surprised by Truman's ability to remain current with new technologies and trends even though it is not located in a major city.

What do you like most about your classes?
The care and concern that many professors have for their students is the best part of classes here. The best teachers I've had at Truman come to class every day truly excited to teach their subject.

What do you feel is unique about Truman?
I think that Truman's ability to give a rigorous liberal arts education, while maintaining a tight-knit campus atmosphere, makes it truly unique.

How would you describe life at Truman to a friend?
I would say that the University does a great job of bringing in entertainment for students, and that Kirksville can be a fun place to live if you can accept its size. The smaller town encourages students to have more friends and create their own entertainment.

What are your plans after graduation?
I plan to attend law school after graduation. I am also considering graduate studies in music.

What do you do for fun in Kirksville?
Thousand Hills State Park is a great place to go in the early fall or late spring. It has a beach, a restaurant, and you can rent kayaks, canoes, and paddle boats for the lake. The Kirksville town square is also a fun place to hang out with friends and explore some interesting shops and businesses.