Rebekah Gates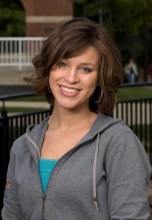 Rebekah Gates
Visual Communications, Spanish minor
Education
Homeschool
Kirksville, Missouri
Organizations
American Institute of Graphic Arts (AIGA)
Students For Life
TRUhop
What attracted you to Truman?
I was homeschoooled, and it's an easy transition to Truman for homeschoolers. It's also in my hometown, being near family friends, and my church. I liked the Visual Communication program, the excellent facilities, the people I already know here, and a great price tag.

What do you like best about Truman?
The people and the campus itself

What has surprised you about Truman?
Being a "townie or Native" there aren't too many surprises. Being a small town, things are pretty predictable. Those coming from big cities might be surprised at how few surprises there are here.

What do you like best about your classes? Highschool is a teaching environment, college is a learning environment. That is my favorite aspect about it. Whatever you put in to your time here at Truman you will reap out of it.

What do you feel is unique about Truman? It's a small town with a tight community, and it's a beautiful campus.

How would you describe life at Truman to a friend? I'm a commuter, so life is a little bit different for me. Enjoying the simple will get you far.

Have you studied abroad?
Not yet, but I would like to go to Costa Rica to finish up those 12 credits to complete my Spanish minor.

What are some of your favorite things to do in Kirksville? Hang out with friends, take walks, go out to Thousand Hills and enjoy God's creation, and go to concerts and shows.

What are your plans after graduation? I haven't decided yet.

Do you have any advice for students considering coming to Truman?
Truman has good facilities and good scholarship opportunities. This is a very small community compared with some. But again what you put into your time here will determine what you get out of it.