Jevae Nelson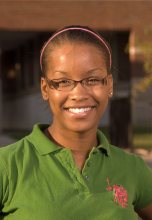 Jevae Nelson
Biology, Spanish minor
Education
Pembroke Hill School
Kansas City, Missouri
Organizations
Cardinal Key
American Student Dental Association
Campus Christian Fellowship (CCF)
Tel-Alumni
What attracted you to Truman?
I was most attracted to Truman because of its student population size and affordability!

What do you like best about Truman?
I love the staff! Teachers are always willing to take an extra second to talk to you and make sure you understand what is being taught to you. Even the staff here that do not teach are friendly, ready to listen, and always wishing you the best!

What has surprised you about Truman?
I was most surprised about how easy it was to get connected and feel like a part of the Truman community.

What do you like best about your classes?
I really appreciate that the class sizes are small. It reminds me very much of my high school. You gain a relationship and actually get to know the teacher and the people in your class.

What do you feel is unique about Truman?
Truman's ability to make everyone feel "at home" definitely sets it apart from other universities.

How would you describe life at Truman to a friend?
During the week its mostly homework...weekends are up for grabs!

What are some of your favorite things to do in Kirksville?
Here you can do mostly everything you do at home...just in moderation! We have bowling, skating, movies, a few stores and stuff, places to eat out, and of course there are always parties and friends!

What are your plans after graduation?
After graduation I plan to attend UMKC Dental School.

Do you have any advice for students considering coming to Truman?
I would say go with Truman! Not only is it the best education possible for the price you pay, but also it is easy to involved and have fun!