Brian Wilt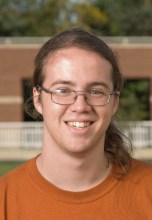 Brian Wilt
Linguistics and German double-major
Education
Homeschool
Owensville, Missouri

Organizations
Campus Christian Fellowship
Bike Co-op
Honors and Recognition
Eagle Scout
BSA National Recognition
Duke Talent Identification Program

What attracted you to Truman?
Truman attracted me because of the value placed on good scholarship, and the relative cost of education. Because Truman also offered a major in my chosen field, I was hooked.

What do you like best about Truman?
I like the size of the college, and I also like the atmosphere. It isn't so large that it overwhelms the freshmen, but it isn't as small as a lot of colleges I was considering.

What has surprised you about Truman?
Most of the things that have surprised me about Truman don't seem to be specific to this particular college. Some things about leaving home and going to college are kind of universal, but Truman did surprise me with the amount of student involvement outside classes.

What do you like best about your classes?
I like the size of my classes. I had been told that some college classes can have over a hundred students, but all my classes this semester have been 25 students or so.

What do you feel is unique about Truman?
Truman has a lot of trees, which may or may not be unique to this campus, but I love it. The library also a lot of books (I calculate roughly 1 million, but I should look it up), and that is really cool.

How would you describe life at Truman to a friend?
For me, life here is slower than you might expect. It's stressful, as all colleges are, but there is a lot of fun here too. Kirksville also holds a lot of surprises, most of which are rather fun.

What are you favorite things to do in Kirksville?
I go to the farmer's market on Saturday mornings, and I also find places to stargaze. Kirksville has fewer city lights than other college towns, and the light pollution is considerably less.

Have you studied abroad?
I have studied abroad, prior to coming to Truman. My last two years of high school were spent overseas, in Tanzania, East Africa, and Papua New Guinea (in the South Seas).

What are your plans after graduation?
My plans after graduation are to continue into higher education, seeking a terminal degree, most likely in Linguistics. I'm not sure where I'll study, but I'll cross that bridge when I come to it. Ultimately, I feel I might become a University professor, teaching German or Linguistics.

Do you have any advice for students considering coming to Truman?
If you're not sure of what field you want to go into, I would suggest coming here. The liberal arts background will benefit you tremendously in any career, and if you're serious about learning, you'll find a similar response from this college.