Nathan Vickers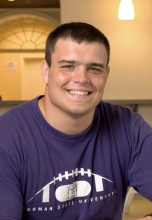 Nathan Vickers
Communication: Journalism, Music and Spanish minors
Education
El Dorado Springs R-II High School
El Dorado Springs, MO
Organizations
Truman Football Team
Professional Development Institute
French Horn Choir
Truman Wind Symphony
Assistant Youth Director at First Christian Church
Spike the Bulldog (Part Time)
Special Olympics Volunteer
Missouri Hall Leadership House
National Society of Collegiate Scholars
Contributor to COMM 170 (Public Speaking)Textbook
Eklesia Christian Organization
Honors and Recognitions
Football Letterman
Missouri Farmer's Union Young Farmer Award
Vice President's Academic List
Dvorak Communication Award

What attracted you to Truman?
I had always heard about Truman's great academics, but when I took a closer look at everything the school has to offer, I was blown away by Truman's commitment to excellence. The opportunity to play football here made the deal even sweeter. The small town atmosphere of Kirksville and the close-knit Truman community appealed to me, too. I am from a small
town and I really enjoy the closeness of the University and the Kirksville Community.

What do you like best about Truman?
I like that I know so many of the people on campus. I see students with whom I have studied, lived, and worked. I'm even friends with some
professors! You can't find that at a big school.

What has surprised you about Truman?
I was surprised that there is so much to do! I am always busy with football, classes, etc. However, it seems like there is something for
everybody. There are much more campus organizations than I would expect from a small institution.

What do you like best about your classes?
I feel challenged by other students, and that is awesome. There are so many smart people here that each class is competitive--I have to work
hard and do my best work to stay at the top of each class.

What do you feel is unique about Truman?
I don't think you could find another university with the combination of great things that are at Truman. It's rare to find a place with great academics, liberal arts, small classes, plenty of organizations, and a low cost.

How would you describe life at Truman to a friend?
Life at Truman is whatever you make of it. It's been my experience that people who find things to do aren't bored. If you are the kind of person that can have fun with anything, you won't have any problems staying busy at Truman. On the other hand, if you want a nice quiet place to study Truman can provide that too.

Have you studied abroad or participated in an internship?
No, but I am planning both an internship for next
summer and a semester abroad just before I graduate.

What are you favorite things to do in Kirksville?
I am big on outdoor activities so I like to fish at Thousand Hills park, or spend an evening at an old train bridge just outside of town. The restaurants in town are pretty good too; The Wooden Nickel, Il Spazio's, and Napoli's are my favorites.

What are your plans after graduation?
Right now I am trying to focus on school. My friends joke that I have a face for radio, and broadcast would be a fun field. I've also thought about print journalism, advertising, and graduate school. I'm working with Truman's career center to find a path that's right for me.

Do you have any advice for students considering coming to Truman?
Spend some time talking to students you meet on campus, not just on tours--talk to random people walking by. Each one has found a niche at Truman and they can tell you something about the university you've never heard before. Also--compare Truman to other univeristies and talk to their students. It will be easy to see how much Truman stands out.