Alex McKamie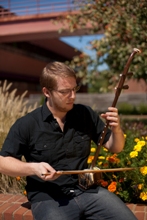 Alex McKamie
Music Performance and Interdisciplinary Chinese Studies double major
Education
Kirksville High School
Kirksville, MO
Organizations
University Symphony Orchestra
Thundara String Quartet

What do you like best about Truman?
I really enjoy the small class sizes and the emphasis put on individual attention. I would not have had nearly as good of a college experience without the special personal attention of several faculty members as well as students.

What has surprised you about Truman?
The amount of new and talented people that I meet every year never ceases to amaze me.

What do you like most about your classes?
I enjoy being able to have a discussion with my teachers on a level plane where learning is both ways.

What do you feel is unique about Truman?
I enjoy the diversity of the people you have in every class. You very rarely spend an entire day without being in a class with people of numerous other majors. It really keeps the class in an open minded state.

Have you studied abroad, done an internship, or participated in undergraduate research?
I have studied abroad twice. The first time, I traveled to Italy with a music program and studied violin and Italian art music culture for two weeks. Then, this past summer I studied in China (mostly in Shang Hai) for two months. On top of studying the Chinese language, I spent a month studying the erhu, a traditional Chinese stringed instrument. I hope to use this instrument as a focal point of my interdisciplinary study for the next year.