Katie Sloan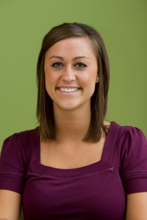 Katie Sloan
Communication Disorders Graduate Student
Education
Wahlert Catholic High School
Dubuque, IA
What attracted you to Truman?
One of the things that attracted me to Truman was the interpersonal relationships that the students in the ComDis program had with their professors and supervisors.

What do you like best about Truman?
One of the things I like best about Truman is that I can ask any of my classmates, supervisors, and/or professors for help with something and I know that any one is more than willing to help.

What do you like most about your classes?
One of the many things I love about my classes are that the professors make everything we learn applicable to what we are going to be doing during our internship/jobs. Everything we are taught has a purpose.

What do you feel is unique about Truman?
I believe that what is unique about Truman is that the students who come to Truman truly care about their education and will strive to get the most out of their educational experience. In my experience, at Truman, the professors have that same pride and strive to give the students the best educational experience they can offer.

How would you describe life at Truman to a friend?
Life at Truman as a Communication Disorders grad student has kept me busy. I keep myself busy with my studies, clients, and extracurricular activities.

What do you do for fun in Kirksville?
The school has provided many opportunities to see and do a variety of things that a person might not be able to do in a bigger city. I am fortunate because my gradate class enjoys being active; going to the lake, the pool, running 5Ks in the surrounding towns, having Thanksgiving dinners, going to movies, farmers market, cookie exchanges, and many more events that have build many wonderful memories of my time in Kirksville.