Ben Anderson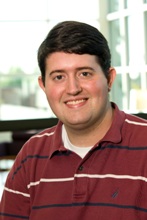 Ben Anderson
Economics and Accounting
Education
Saint Louis University High School
Saint Louis, MO
Organizations
Beta Alpha Psi
Students in Free Enterprise
Beta Gamma Sigma
What attracted you to Truman?
I was especially attracted to the smaller size of campus, the ability to walk everywhere, and how accessible everything seemed as a student.

What do you like best about Truman?
I like best the extremely friendly student body, the ability to interact with professors on a personal level, and how great and dedicated all the organizations here on campus are.

What has surprised you about Truman?
I was really surprised at how much there is to do here; between everything for organizations, classes, and getting some free time and sleep, it feels like I'm always busy!

What do you like most about your classes?
I really like the smaller size of each class section and the very visible knowledge and passion that all the professors have for their subject.

How would you describe life at Truman to a friend?
It's a real challenge to succeed at academically, but one that will enable you to succeed for the rest of your life.

Have you studied abroad, done an internship, or participated in undergraduate research?
I interned with the Department of the Treasury in the Spring of 2008 in Washington, D.C. I worked in the Office of Economic Policy, in the Office of Macroeconomic Analysis.

What do you do for fun in Kirksville?
I like to attend some of the really great speakers and comedians that SAB and organizations bring to campus, and just really enjoy just hanging out with friends in my free time.