Jalene Huang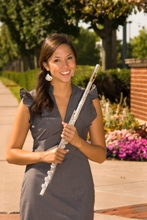 Jalene Huang
Music, Pre-MAE
Education
Lafayette High School
Manchester, MO
Organizations
University Orchestra
Wind Symphony
Collegiate National Association for Music Education (CMENC)
Truman State Flute Quartet
Sigma Alpha Iota
Residence Life- Student Advisor
Private Flute Instructor
Honors or Recognition:
Music Scholarship, Truman Service Scholarship, Two nominations for the Golden Student Leadership Award, President's List, Principal flute in University Orchestra, Best Female Student Advisor (fall 2007, spring 2009), Regional Honorable Mention for Residence Life Program

What attracted you to Truman?
I had first heard of Truman because it was the alma mater of some very influential people in my life. Top students from my high school a few years older than me were attending Truman. With such quality people choosing Truman time and time again, I just knew I had to check this school out!

What do you like best about Truman?
At a small school like this, you are truly cared about. There is a sincere sense of individualization here. You're not just a number in a large class. Your professors know your name, your hobbies, and your personality. They care about your success academically and in your general life.

What do you like most about your classes?
I really admire the concept of our Liberal Arts Program. We are not only asked to become scholars of a particular area of study, but also well-rounded individuals knowledgeable in many fields. Some of my favorite classes at Truman have included subjects vastly different from music. I loved my philosophical calculus course; my JINS course about women's health; and my simple, introductory biology course. Being a Truman student stands for so much more than earning a degree of a certain major.

What do you feel is unique about Truman?
Truman students are so dedicated! Their commitment to others and to their own success is astounding.

Have you studied abroad, done an internship, or participated in undergraduate research?
I studied abroad in Italy in spring 2008 with the University Orchestra. We traveled throughout the country exploring not only the culture but also seizing opportunities to perform in various venues, such as a conservatory. This was a priceless experience for me that I will never forget.

What do you do for fun in Kirksville?
I stay busy! Whether I am cheering at an athletic event, performing in an ensemble, leading a program, or hanging out with my awesome residents, I'm always make fun out of every moment here.