Dr. Michael Goggin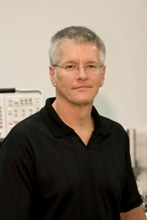 Dr. Michael Goggin
Associate Professor of Physics
Education
B.S., Physics-Oakland University
Ph.D., Physics-University of Arkansas

Additional experiences or positions held:
Graduate research at Los Alamos National Lab, Los Alamos, NM; post-doctoral research at the Air Force Weapons Lab at Kirtland AFB, NM; post-doctoral research and teaching at New Mexico State University; optical engineer PSR, Inc., White Sands, NM; Asst. Professor of Physics, Univ. of Southern Indiana (Earned tenure there the same year I started at Truman.)

Research interests:
My primary research interest is experimental quantum optics. Some specific examples are the construction of sources of bright high-quality entangled photons, implementing linear optical quantum computing protocols, testing the Leggett-Garg Inequality, and testing complementarity at the single photon level. I am also interested in theoretical nonlinear dynamics and quantum chaos, specifically as it relates to the classical-quantum transition.

What attracted you to teaching at Truman?
The students. They are amazing. Where else can one teach bright and curious students who work hard?

What do you think makes Truman unique?
Truman does it all. We have strong majors but also support a liberal arts approach to learning. We encourage our students to study disciplines outside their major. Students hang out with friends from very different majors than their own. Learning is cool here.

How have you involved undergraduate students in your research?
I have had students working in my lab as early as their freshman year. They usually work with more senior students. The projects on which the students work have been selected to be accessible to undergraduate students.

What do students seem to like most about your classes?
Lately, I have been teaching the upper division lab courses and the intro course for non-science majors. The students in the upper division lab courses really like the hands-on nature of these classes. The non-science majors like the fact that I connect the material to the world around them.

What graduate schools are some of your former students attending?
University of California-Berkley, University of Michigan, State University of New York-Stonybrook, University of Rochester, University of Virginia, Yale University, University of Colorado

What careers have some of your former students entered?
Most have gone on to graduate school in physics or engineering or to medical school. Those who do not go directly to graduate school typically become teachers, programmers, or engineers.