Joanna Bess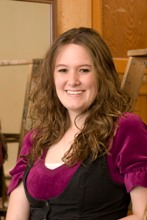 Joanna Bess
Theatre and English
Education
Fox High School
St. Louis, MO
Organizations
Active participant in Truman's Theatre Department
Half- Full Players (Children's Theatre Group)
Alpha Psi Omega (Honorary Theatrics Society)
What attracted you to Truman?
Some of the major attractions for me were the size of the Theatre department (I wanted something that was small enough to offer plenty of opportunities but still produced an impressive season). Also, Truman awarded me plenty of scholarships that made it my most affordable option.

What has surprised you about Truman?
I was surprised by the overall student work ethic that is found throughout the university. Students are so dedicated to academic success here, and therefore, professors have high standards.

What do you like most about your classes?
I like how closely I get to work with my professors on a daily basis. One of the nice things about the Theatre department is that students are working with the professors constantly outside of classes to produce the season of plays. We get the chance to know the professors quite well since we spend so much time together! I also like how my theatre classes are constantly helping me prepare for my future. Every semester, I appreciate how my professors present me with lots of opportunities to learn more about the professional theatre world and how to succeed post-graduation.

What do you feel is unique about Truman?
I think Truman is unique because it provides a well-rounded Liberal Arts education while still promoting dedication and passion for individual majors and programs. Not only are we given the opportunity to explore areas outside our major with the required Liberal Science Program classes, but the individual departments also encourage a well-rounded education. In the Theatre department, I've gotten the opportunity to learn about several areas of theatre, so I will be graduating with as many tools as possible to help me succeed.

Have you studied abroad, done an internship, or participated in undergraduate research?
Right now, I'm an intern for the scene shop at Truman, and it's been giving me lots of great technical theatre experience.

What are your plans after graduation?
I'm hoping grad school is somewhere in my near future, but for immediately after graduating, I plan on moving to Chicago and looking for as many theatre opportunities as I can find! It's definitely a scary time, but I'm excited to go find some work.