Kyle Smith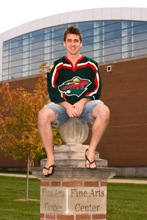 Kyle Smith
Theatre
Education
Mexico High School
Mexico, MO

Organizations
Tag Improv
Half Full Players (children's theatre troupe)
What do you like best about Truman?
With some initiative, hard work and dedication, there are so many opportunities for a theatre major to learn through experience. I've started a children's theatre troupe, worked with professional improv-ers, and made a full length movie, there's so much to gain from the small, nurturing, and encouraging environment.

What has surprised you about Truman?
The range of people I have met and come to know. People with all sorts of different backgrounds, goals and personalities.

What do you like most about your classes?
The chance to work with your professors as fellow professionals, learning from their experiences and knowledge.

What do you feel is unique about Truman?
How malleable it is. You have the freedom to explore how best you will benefit from your college experience.

How would you describe life at Truman to a friend?
You can gain whatever you want from your time at Truman, as little or as much as you want. Fill your days with work and fun or enjoy relaxing between tough classes- both are beneficial and encouraged.

Have you studied abroad, done an internship, or participated in undergraduate research?
After my 2nd year, I was an apprentice at Williamstown Theatre Festival in Massachusetts, one of the largest and most prestigious theatre festivals in the nation. That experience taught me so much about myself and the professional world of theatre, things I would never have expected to learn.

What are your plans after graduation?
Move to New York and pursue improv and playwriting.