Igor Korenfeld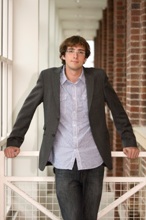 Igor Korenfeld
Psychology and Economics double-major
Education
Parkway Central High School
Chesterfield, MO
Organizations
Delta Sigma Pi
Alpha Phi Omega
What attracted you to Truman?
Truman was a great value. I knew I could get a good education at an affordable price.

What do you like best about Truman?
The small class sizes. Most of my classes have between twenty to thirty students. As a result, the classes are much more personal and the students are more involved.

What has surprised you about Truman?
The amount of research that we have on campus. Though the focus at Truman is on students' education, students and professors still conduct a large amount of high-quality research.

What do you like most about your classes?
I like the amount of active involvement in learning. The professors typically do more than lecture. They engage the students in lively discussions.

What do you feel is unique about Truman?
The level of interaction students have both with each other and with the professors. I was able to walk up to a professor and ask if I could join his research team. I know the names of most of the students in my classes. I don't think the same would be true at other universities.

Have you studied abroad, done an internship, or participated in undergraduate research?
I am on Dr. Shaffer's physiological psychology research team and we study a measure known as Heart Rate Variability (HRV). I also work with Dr. Hatala, doing research in the field of behavioral economics.

What are your plans after graduation?
Go on to graduate schools and (somehow) combine my majors.