Dan Peterson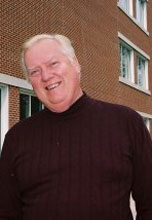 Dan Peterson
Director of Bands
Education
B.A. University of South Dakota
M.M.E Drake University

Organizations
I am the Coordinator of all of the band activities including marching band, 3 concert bands, 2 basketball bands and co-sponsor of the Showgirls dance team.
Prior to coming to Truman, I taught in Iowa public schools and I have been a Clinician for the Yamaha Band and Orchestra Instrument Company of America. I have also previously served as a Consultant for Pyware Music Software as well as the Coordinator of 'Championship Drill Design' clinics which have taken place on numerous college campuses across the nation.

I am interested in research that pertains to music that is currently being played by bands at the high school level. This research focuses on both the degree of difficulty and the length of preparation of the music.

What attracted you to teaching at Truman?
Several Truman State University faculty members encouraged me to apply because they felt I could bring a high level of performance to the band programs. After researching the university and meeting with a variety of faculty, staff and students on campus during an interview, I realized what a unique university Truman is and how it offers unlimited opportunity.

What do you think makes Truman unique?
The quality of both the student population and the faculty make Truman a one of a kind university. Quality speaks for itself.

What do you like best about teaching at Truman?
I enjoy the students! The learning is done at 'quick tempo' and the desire to learn and achieve is incredible.

What has been your greatest accomplishment or success while teaching at Truman?
One of the great accomplishments that I have enjoyed is the success of many students. Currently there are 15 former band teaching assistants who are currently director of bands or assistant director of bands around the country, including 3 at other universities in the state of Missouri.

What do you consider to be your greatest professional accomplishment?
I have been honored to have had the Truman State University Wind Symphony on 3 National Conferences performing in front of the nation's best college and high school band directors. In addition, this group has performed on 2 regional (13 state) conferences and 7 state conferences. Each of these performances has been a milestone in my career at Truman.

What do students seem to like most about your classes?
I believe the students in my bands, ensembles and classes enjoy the achievement that they sense going on around them. The learning is contagious and everyone enjoys the success that comes with learning.

What graduate schools are some of your former students attending?
Recently I have had students attend The University of Washington, Florida State University, Michigan State University, Indiana University, The University of Illinois, California State University-Long Beach, Arizona State University, The University of Kansas and Northwestern University.

What careers have some of your former students entered?
Several music students are now full-time musicians with military bands including The Air Force Band of the Rockies, The Air Force Band of the Golden Gate, the Tac Command Band, the NATO band of Naples, The Air Force Band of Hawaii, and several others. Former students are director of bands at Pacific Lutheran University, Southeast Missouri State University, Missouri Western State College, Missouri Southern University. Former students are associate director of bands or director of athletic bands at The University of Kansas, Western Michigan University, The University of North Carolina-Chapel Hill, West Virginia University and Temple University, One former student is the head of the Music Department at Oklahoma State University. Former percussion students are now percussion teachers at Oregon State University and College of the Redlands, as well as percussion instructor with the Cavaliers Drum and Bugle Corps. Seven of the staff members with the Colts Drum and Bugle Corps have degrees from Truman State University.

What do you like best about living in Kirksville?
Kirksville is a safe community to live in and is full of friendly people. It has all of the necessities and is a terrific place if you are an antique collector. I also love to go to the lake and boat and on occasion I actually enjoy my golf game. I like getting together with my many friends who are not part of Truman as well as many of my Truman colleagues.