Nick Wilsey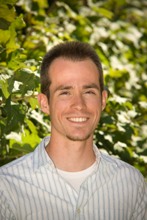 Nick Wilsey
Physics, Mathematics minor
Education
Warrensburg High School
Warrensburg, MO
Organizations
Stargazers Astronomy Club
Society of Physics Students
Student Ambassadors
Student representative to the physics faculty
Formerly the design editor and a part-time reporter for the Truman State University Index newspaper
What attracted you to Truman?
The reasonable price for an outstanding education, and the beautiful campus. But back when I was shopping around for schools, I was also attracted by the excellent student newspaper. I had a great experience with my high school paper, and wanted to continue that kind of work in college. But I later discovered that the opportunities for getting real-world work experience early in your college career extend across the board at Truman-student media, undergraduate research, lab assistantships, just to name some of the things I've personally done!

What do you like best about Truman?
The fact that the first priority of professors is to teach students, not to do research or polish their million-dollar lab equipment. Virtually all of my professors have actively made an effort to get to know their students on a name-by-name basis. When it comes to being academically successful in college, and being well prepared to take on the wider world after graduation, few things compare to having a close relationship with some of your professors, who can mentor you along the way and help get your foot in the door when it comes time to apply for graduate school or a job.

What do you like most about your classes?
Probably the fact that I still actually want to go to them in the morning! I'm at the point in my physics career that I'm afraid of skipping a class because I might miss my next great revelation, where a synapse lights up and a concept that I've been struggling with for months suddenly clicks and makes sense because of something my professor says. Day after day I'm rewarded with new discoveries like this, discoveries that I probably wouldn't have been able to make on my own. Reading a book might get me oh so close to wrapping my head around some deep, elegant truth about the universe, but more often than not it takes a professor to say the words in just the right way to make that imprint on your mind, the "magic phrase" that unlocks the understanding that was in your head all along.

What do you feel is unique about Truman?
I think the LSP (Liberal Studies Program) is most unique aspect of Truman. A lot of students gripe about it because it gets in the way of their major, but honestly, you don't come to Truman just to get single-mindedly absorbed in your major field from Day 1. The LSP forces you to try out new things, to build a broader understanding and appreciation for other disciplines. Many people I know have said their favorite class has been completely unrelated to their major, and they would never have thought to take it if it (or a similar class) wasn't required for the LSP. Some people have even completely changed their majors because of an LSP class. I personally switched from linguistics to physics, not really because of an LSP class, but because of an observational astronomy class that was open to all majors. The opportunities for exploring different fields of study at Truman are boundless.

Have you studied abroad, done an internship, or participated in undergraduate research?
I've been working on astronomy research for two years now, studying an unexplained feature of the light curves of some eclipsing binary systems. Through my research, I've traveled to Arizona three times on weeklong trips to observe on a professional telescope, and once to California to present my research at a national conference. My research experience at Truman also gave me a leg up in applying for two federally funded summer undergraduate research programs, one at Truman itself in 2008 and the other at Lowell Observatory in Arizona in 2009. These last two summers have given me some of the most incredible experiences of my life.

What are your plans after graduation?
I'm still not sure what I plan to do after graduation, but I'm confident my experience at Truman has prepared me for virtually any career path I'd wish to pursue. I know I want to teach, and I know I want to continue learning astronomy and physics, so I'd be perfectly happy going on to graduate school to teach lower-level courses, take classes, and do research on the side.

What do you do for fun in Kirksville?
When the weather is agreeable, I love to mountain bike in the countryside. There are no mountains around Kirksville per se, but there's enough up and down, up and down, brush in your face and logs to climb for a wild ride!