Marcelina Powers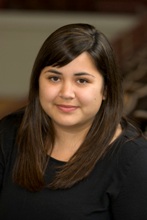 Marcelina Powers
History, Political Science minor
Education
Parkway North High School
St. Louis, MO
Organizations
Prim Roses
Historical Society
Phi Alpha Theta
What attracted you to Truman?
Honestly I was not planning on attending Truman at ALL, until I came up with a friend of mine from high school. The people were incredibly friendly and the campus was gorgeous. I was sold on one visit!

What do you like best about Truman?
This answer is so cliche, but I definitely feel like we have some of the best professors out there. Every professor brings a unique point of view to the classroom, just like the students they teach.

What has surprised you about Truman?
I was very surprised at the advanced, fast-paced level of classes right from the start. I knew Truman was a good school but I was shocked at how challenged I felt and it was a good motivator.

What do you like most about your classes?
I like that most of my classes are discussion based. You aren't just another face in the crowd, being lectured at. Professors want to hear what you have to say, and I always feel comfortable giving my opinion, knowing that it's a safe place for discussion and hands on learning.

What do you feel is unique about Truman?
I think that Truman is one of the best places to go if you want a solid base for a graduate or other degree. It really prepares you for what's next instead of just giving you a degree.

Have you studied abroad, done an internship, or participated in undergraduate research?
I presented in the Student Research Conference last spring about one of my history papers, and it was a really great experience. I met and talked with professors I had never had before and got to present something I was proud of to my peers.

What are your plans after graduation?
I plan on attending graduate school and pursuing my M.A and eventually PhD in History, preferably in the field of women's/gender/sexuality history.