Renee Cella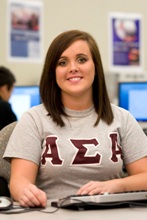 Renee Cella
Communication
Education
Hillsboro High School
Hillsboro, MO
Organizations
Alpha Sigma Alpha
Panhellenic Council-Recruitment Team
Up 'til Dawn-Executive Board
Campus Pals
What attracted you to Truman?
I was attracted to the small campus size at Truman, when I visited I really felt like I was in a home away from home.

What do you like best about Truman?
My favorite thing about Truman is the size of the classrooms. Smaller classes create intimate discussion and close relationships with professors.

What do you like most about your classes?
I love my classes because they genuinely interest me. I spent a lot of time changing my major, and I had a difficult time finding the right fit for me. After some soul searching, I settled on Communication as a major and have actually found my calling. I enjoy understanding language and how that language affects people.

What do you feel is unique about Truman?
At Truman, students can actually form close bonds with professors. This is the biggest benefit of attending a smaller school. My teachers actually know not only my name, but actually know me! At a bigger school it would be impossible to foster such a close student/teacher relationship that could potentially last even after college has ended.

How would you describe life at Truman to a friend?
Truman is a home away from home. It is so easy to get involved in organizations on campus and make lifelong friends. The students and professors that you meet here are actually people that will make lasting impressions on you and can help you beyond your college years.

Have you studied abroad, done an internship, or participated in undergraduate research?
I am currently working on an internship for the Communication Department, I am creating a newsletter.